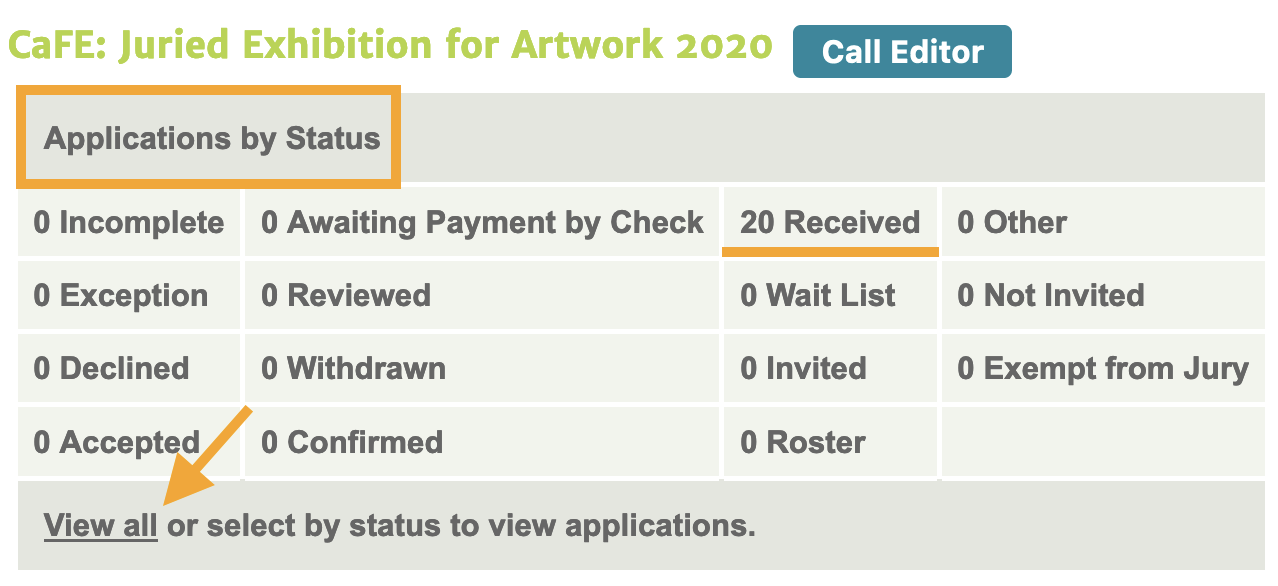 Search Box: Use the search box to search for a specific applicant by Name or Application ID. Use the category filters to sub-sort (for example, choosing the applicants in the "Acrylic" category whose statuses are "Received").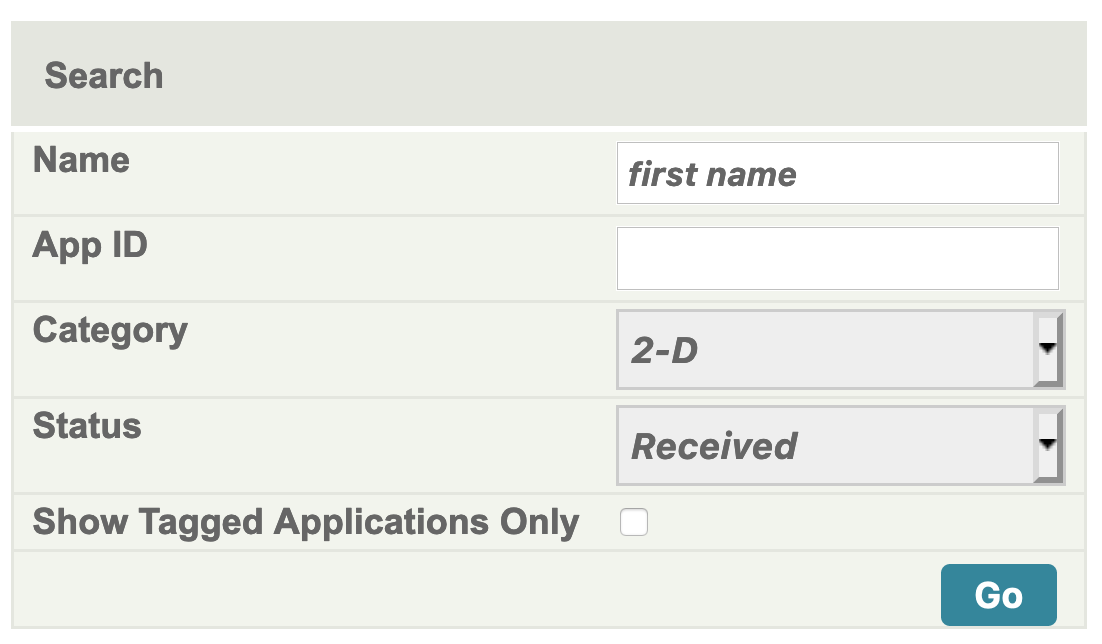 Applications Table
After you click on the name of the status or search for an application, a table of the applications will load. The top bar is sortable; click any of the column headings to sort the list up or down.
Click on the blue (+) icons to view the details.

Unique application number assigned by CaFÉ. Click this number to see an applicant's completed application, any past communication, and contact information. You can also email the artist individually by clicking their email address.
Displays the current status of the application. To change the status, select from the drop-down menu and click Save Change. You must notify the applicant if you wish them to edit or take action regarding the new status.
Displays profile information about the applicant. It should be noted that some artists work in teams and collaborate equally on the artwork, which is indicated in their artist profile.
Displays the category selected by the artist, if used. If you need to change the category, select from the drop-down menu and click Save Change.
Date stamp of when the application was submitted and list of all transactions made by the artist. NOTE: The Trans Amount/Details column represents the cost of items that were checked out, it is not the total amount paid at checkout. For entry fee financials and total amount paid, go to Reports and Income Breakdown to keep track of and download reports of the actual transacted payments received.
To add comments or a notation to an application, click Add Comment, type the comment and click edit. Comments are internal and cannot be seen by the applicant. Click Status History to keep track of changes to the entry's status.
To tag an application, click the ID# to open the Artist Citation page. At the bottom of the page next to Create tag, type a short descriptive tag and click Save. You'll then be able to search and quickly identify tagged applications.
Click the flag icon under the Flag column and then click Save Change. Flag is for internal use only and cannot be seen by the applicant.
Click to launch a pop-up window with a slideshow preview of the applications.
Click to export spreadsheets of information about each entry, such as contact information, application answers, and media information (title, medium, etc). Note:Uploaded attachments such as resumes must be downloaded one at a time per entry.
Click to generate a PDF of applications by status. Choose the image inventory list to show thumbnails and image information for each image.
IMPORTANT: The overview of applications is displayed two different ways, depending on the type of call you request (Scoring by Art or Scoring by Application). You will not be able to change this selection, so please be sure you select the most appropriate type for your needs.
If the call is Scoring by Application (Jury by Artist), each entry ID# = a body of artwork per artist.
If the call is Scoring by Art (Jury by Artwork), each entry ID# = one artwork sample per artist. For example, if an artist submits 3 artwork samples, there will be 3 separate applications, each with their own ID#.
Learn more about downloading application information by visiting our Reports on CaFÉ help guide.
Changing the Application Status of Entries
To change an entry's status: first search/find the entry, then select a new status from the Status drop-down list, and click Save Changes.
To change the status of multiple applications at once: At the bottom of the Application table, locate Move All [current status] applicants to [new] status. Choose the new status from the drop-down menu and click Go to perform a mass application status update.
Editing or Correcting Submitted Entries
If you allow applicants to edit submitted entries either before or after the call deadline, you can change their application status to either Incomplete or Exception:
To allow entry modification before the deadline, use Incomplete. The artist's application will automatically be moved to the Received status after they submit their changes.
To allow entry modification after the deadline, use Exception. You will have to manually move their application back to the Received status after they submit their changes.
IMPORTANT: There is no option for permanent deletion of submitted entries. Entries may be moved to Withdrawn, Not Invited, or Declined, but they cannot not be permanently removed from the database. Likewise, admins are not able to create entries for artists. All material must be submitted by the artists through their CaFÉ accounts.
Interchangeable with Invited status. Artists are more familiar with and often prefer Invited status.
Awaiting Payment by Check
Entries will move to this status if the applicant selected the "pay by check" option at checkout. When you receive a check from an applicant, change the applicant's status to Received.
If you have set the confirmation deadline to active in the Event Editor, use this status only after your jury has been completed.
Use when an applicant turns down or declines an invitation. Rarely used.
Use if a received application needs to be modified after the deadline. When the applicant finishes making changes, you must manually change their application status back to Received.
Use if the application is exempt from the jury process. Do not use this status for Not Invited or Withdrawn applications. Rarely used.
Use if an artist needs to modify an application before the deadline. The applicant can then re-submit their application with changes.
Use after jurying if the applicant is invited to participate, has been selected, and/or is a finalist.
Use after jurying if the applicant is not invited to participate, has not been selected, and/or is not a finalist.
Can be used as a general placeholder or a catch-all status.
Submitted applications appear in the Received status. Leave applications to be juried in this status.
Use to indicate whether an entry has been reviewed.
Use to create a list of prequalified applicants. Allows the applicant to modify their active entries at any time until you move them to a different status. Used by roster calls only.
Use after jurying if the applicant is on the waitlist.
Use if the application has been withdrawn.
Application Management Tips
Carefully review received applications and note any errors, ineligibility, incorrect payment, or other unqualified information.
Applications often come in faster as your deadline approaches.
If you have required a file upload, create a folder on your desktop to hold your downloaded files (e.g. resumes or other written material).
Learn more about the information collected via CaFÉ and how to manage applications by watching our Data Collection and Artist Management webinar.