CaFÉ Promotional E-Blast
PROMOTE YOUR CALL AND ATTRACT MORE ARTISTS.
Send a promotional e-blast to a targeted group of artists! The e-blast will contain a 200 word (or maximum 1000 character) description of the event, plus the event's call type, eligibility, state, deadline, fee, organization name, call name, website, your contact email and phone number. The logo from the call editor is already included, or you may provide a JPG or PNG file of your logo (maximum 300 pixels).
LIST SIZE:
130,000 artists and counting!
ARTIST COUNTS
Northeast = 39,000
Midwest = 31,000
South = 63,000
West = 85,000
Note: These numbers are approximate figures and are subject to change.
FREQUENCY:
One e-blast is sent per day (US national holidays excepted). E-blasts are secured on a first come, first served basis.
PROCESSING TIME REQUIRED:
5 business days.
RATES:
Rates start at $100 and increase depending on the number of emails sent.
$100
# of Emails Sent:
1 – 9,999
$200
# of Emails Sent:
10,000 – 19,999
$300
# of Emails Sent:
20,000 – 29,999
$400
# of Emails Sent:
30,000 – 39,999
$500
# of Emails Sent:
40,000 – 49,999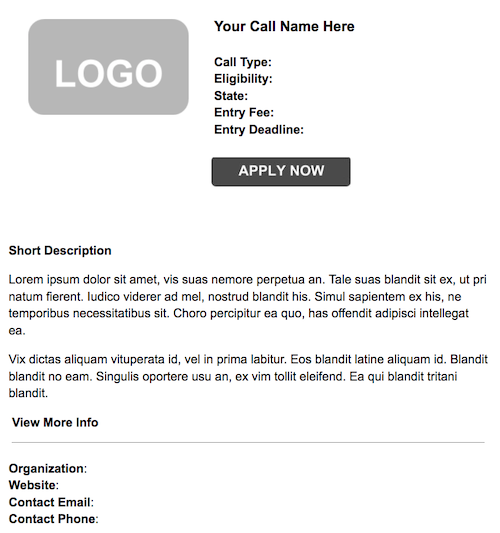 Your organization's logo will be added here!
This information is pulled from the CaFÉ Call Listings.
We can pull in the information you have already entered in CaFÉ or you can send us updated information about your call.
Be sure to include accurate contact information.
Tailor your message.
Target your audience.