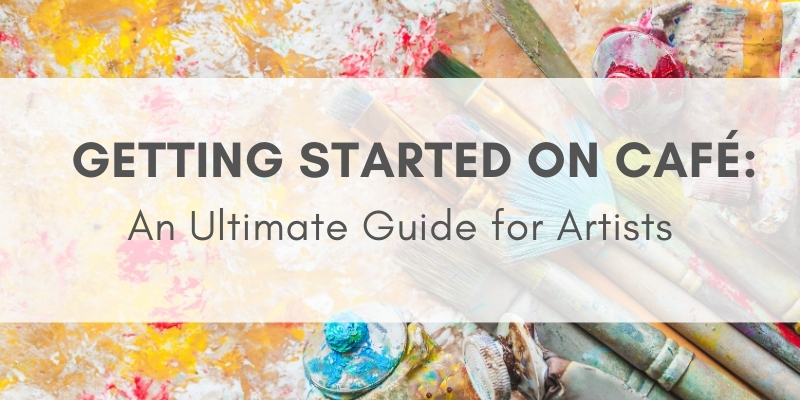 CaFÉ has an entire Help Center for artists with a list of instructions and resources to walk you through the process of applying to a call. We also have a host of blog posts you can refer to for even more tips and tricks. Here, we've decided to combine forces.
If you are new to using CaFÉ, consider this your ultimate guide. We'll walk through the process and point you to the exact help guides and resources you may need along the way. Even if you are experienced with our platform, you may find some useful advice on how to apply to different types of calls and streamlining your application process.
Step 1: Sign-In or Create a CaFÉ Account.
The first thing you have to do when applying to a call on CaFÉ is to create a free account.
Having a CaFÉ account does more than enable you to apply to any of the hundreds of calls listed on the site. You can also upload and store your work samples in your portfolio, save calls, favorite the ones you want to come back to, and receive regular notifications of new calls posted and upcoming deadlines.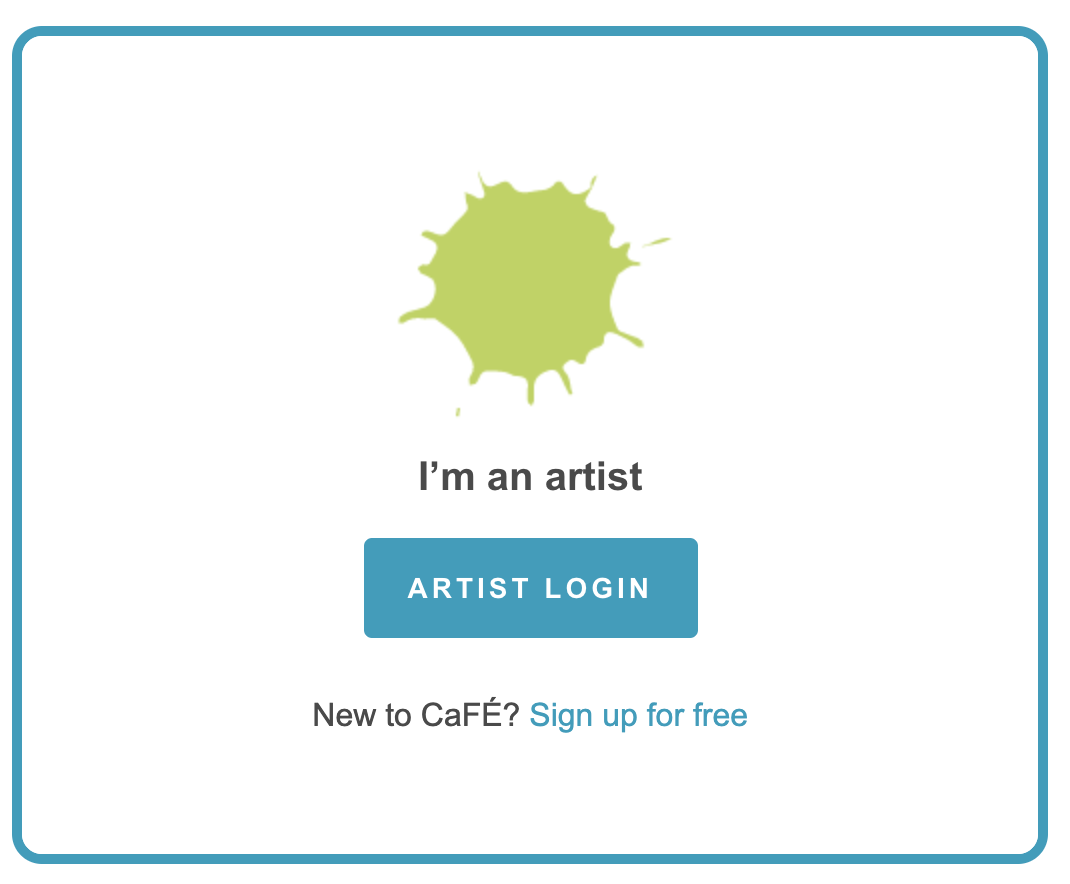 Already have an account? Start by logging in. If it's been a while since you've updated your account, go to the My Profile page to make sure all of your contact information is up to date. Since this information is pulled into all of the applications you submit to a call, you'll want to make sure your information is accurate.
Any time you create an account online, including CaFÉ, you want to be sure your personal information is safe and your privacy is protected. We take online security seriously, and in honor of October being Cybersecurity Awareness Month, we wanted to highlight the importance of online safety. The National Cybersecurity Alliance has an entire library of information for how to keep your information safe online. You can take a look at their resources here: Stay Safe Online.
Find even more tips about being safe while applying to calls online in our blog post, Five Internet Skills for CaFÉ Artists.
Step 2: Prepare the Images of Your Artwork
The second—and arguably most important—preparation step is to take photos of your artwork and upload them to CaFÉ. Before you pull out your camera, make sure your artwork adheres to the call requirements. Refer to the Call Details page to find out if there are any eligibility requirements that could disqualify your artwork. When you're ready to take photographs, take the time to do it right and do it well. Having images with the right lighting, positioning, and resolution could mean the difference between an invitation and a rejection.
Need tips for taking professional photos? We've compiled everything you need to know in two of our previous blog posts: How to Photograph Your 2D Artwork and How to Photography Your 3D Artwork.
Once you have taken your photos, make sure they adhere to CaFÉ's upload-ready file formats and you're ready to add them to your portfolio. Refer to our Uploading Media to CaFÉ help guide for the full list of requirements for all work sample types. Below you will see the main specifications you need to know.
Image File Requirements
File Type: JPEG or JPG only
File Dimensions: 1,200 pixels or greater on the longest side
File Size: Under 5 MB
Color Profile: sRGB
Audio File Requirements
File Type: MP3, AIFF, WAV, XMF
File Size: Under 10 MB
Bit rate: minimum 96 kpbs–maximum 320 kbps
Codec: aiff, wav, au
Video File Requirements
File Type: MOV, MP4, WMV
File Size: Under 100 MB
Resolution: minimum 640 x 480, maximum 1920 x 1080
Aspect ratio: 4:3 or 16:9
Bit rate: recommended above 240 kbps
Frame rate: minimum 12 fps, recommended 30 fps
If your work sample files do not match the above requirements, they won't be accepted when you try to upload them to CaFÉ. If your image files need adjusting, you may need to use photo-editing software to adjust the size or format of your photo. Read our 8 Photo Editing Tips for Artists to set yourself up for success.
In addition to having your photos ready to upload, you also need to compile artwork details that you will type in when you add them to your portfolio. Below is a list of every detail you will enter about work samples (bolded items are required details).
Image Work Samples
Artwork Title
Medium
Dimension (height, width, depth)
Price/Value (if your artwork is not for sale, enter $0 and enter "not for sale" in the description)
Year Completed
Primary Discipline
Art in Public Places (used to identify ​the artwork as a public art commission)
Description
Audio File Requirements
Artwork Title
Original Format/Medium (tape, digital, etc.)
Copy Format/Medium (audio CD, DVD, MiniDisc, etc.)
Duration (minutes:seconds)
Price/Value (if your artwork is not for sale, enter $0 and enter "not for sale" in the description)
Year Completed
Description
Artist's Website
Step 3: Search for and Find a Call for Entry
Now that your portfolio is filled with your best work samples, you're ready to find the call(s) to which you will apply. Perhaps you already know of a call, or maybe you're looking for a new opportunity. Either way, go to our CaFÉ Call Listings Page first. This page lists all calls currently accepting applications. If you already know the name of the call or the organization, use the search bar to locate that listing.
If you are browsing to find an opportunity, refer to our How to Apply – Searching for Calls help guide to learn about how to effectively filter and sort this list. For example, keep an eye on the Eligibility filter, it indicates if you are eligible to apply based on the location of the call.
Tip: Once you find the call you are interested in, click on the heart icon on the right side of the listing to add it to your list of favorites. This way, you won't lose track of the Call Details page. You may need to refer back to this page multiple times, so favoriting will make it easier to find again.
As you become more familiar with the calls on CaFÉ, you will notice there are many differences among the types of calls. In addition to the more "traditional" exhibitions, organizations also use CaFÉ to host requests for qualifications or proposals for public art opportunities, artists in residence programs, fellowships, and more. There may also be more competition-style calls that offer awards to the selected artist(s). We have a Call Type search filter on the Call Listings page to help you find the types of calls that meet your needs.
Tip: Some calls may be hosting their exhibitions in a physical gallery, while others are hosting them entirely online. Some are doing both. Check the Call Details page for information about whether or not an event is being hosted physically and/or virtually so you know exactly what to expect if invited to participate.
The more you get to know these different types of calls, the more you will see how the work sample requirements and submission materials may differ. This also means the jurying criteria will vary from call to call. Therefore, it's best to be aware of these differences and tailor your application materials to match. For example, an exhibition call may only ask for and judge an applicant's artwork samples, so you'd want to make sure you have high-quality photographs.
On the other hand, an RFQ for art may require multiple samples of an applicant's body of work along with a resume and artist statement, so you will want to tailor your application to highlight why you are the most qualified candidate. The sooner you can spot these differences, the sooner you'll become an expert at preparing your portfolio and materials for any type of call you may find.
Step 4: Gather Your Application Materials
Speaking of tailoring your application, there are many different kinds of materials you may be asked to provide in your application. These materials range from documentation that addresses simple questions about you or your artwork to detailed proposal documents, resumes, and artist statements. Before you start applying to a call, carefully read the submission guidelines on the Call Details page to find out what you need to prepare. You can also click Apply Now to view the application itself and see the exact questions.
When you know all the materials required for your application, start getting them ready. Make sure any files you will upload are in one of the accepted formats (txt, pdf, doc, docx, xls, xlsx, or jpg) and no larger than 2MB. We also suggest you write out your answers in a separate document so you can copy/paste your answers in the text boxes on the application. This ensures you won't lose your work if you don't save your application on CaFÉ or navigate away from the page.
Speaking of saving your work, make the Save Application your best friend. Click it often while filling out your application. For step-by-step instructions for filling out the application form, view our How to Apply – Application help guide.
While not every element of your application will be visible to the jury (the call administrator determines what the jury sees), fill out the application as if it it is. Give yourself enough time to write, gather, and edit your application. If you wait until the last minute, you may not have enough time to gather what you need or troubleshoot any errors.
Step 5: Submit Your Application
The final step in the application process is submitting your application. This entails checking out and paying any applicable fees. You can read the full list of instructions for checking out along with our video tutorial on our How to Apply – Checkout help guide. Even if the call you are applying to does not charge an entry fee, you will still need to complete the checkout process.
The organization hosting the call determines the application fees. This includes entry fees, additional media fees, and optional membership fees. The organization will also determine if they accept payment by check. Almost all calls accept payment by credit card or through your PayPal account. If you are paying by credit card, CaFÉ accepts Visa or Mastercard.
Have a coupon code for the call? When it comes time to select your entry fee(s) to pay, simply click the checkbox next to the entry fee and the coupon code box will appear. Enter the code, click apply, and you'll see the discount reflected on the total.
Once you have completed the checkout process, you have reached the end of your application journey! Your entry will be available to view from your My CaFÉ Entries tab. All you have to do now is sit back, relax, and wait for the results of the call. Or why not apply to another call? Either way, we wish you the best of luck with your entries!
Written by Communications Coordinator Justine Chapel