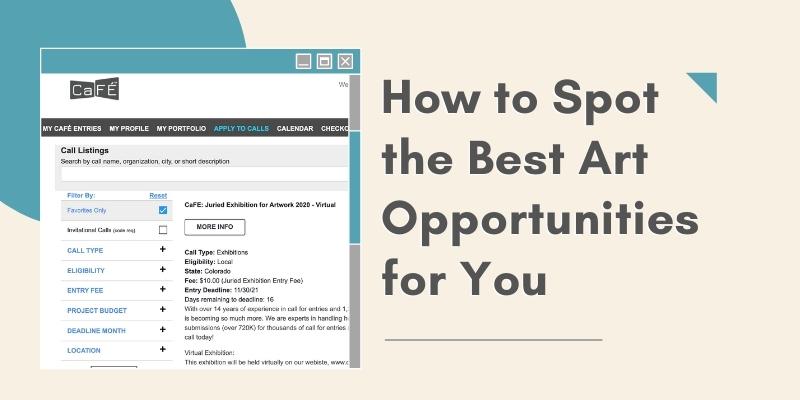 Applying to open calls for art can help an artist gain exposure and experience. In many cases, these opportunities can lead to new connections, prize money, and often most importantly—artwork sales. At CaFÉ, our mission is to make these art opportunities available to all by offering arts organizations an affordable submission platform to host their open calls for entry and provide artists with an easy way to apply. Part of our mission involves opening the use of our site to a wide variety of art institutions: galleries, public art programs, online publications, residencies, art societies, and more. Even across similar art entities, not all open calls are created equal. What one artist may find to be worthwhile to apply to, another artist may not. Therefore, it's important for artists to decide for themselves whether to apply their work to an open call. To help prepare artists to spot reliable and advantageous opportunities, we are sharing some key factors that should be considered.
What We Do: How CaFÉ Verifies Organizations and Encourage Best Practices
Each one of the 700+ organizations that have been listed on CaFÉ signs up specifically to use the site to manage their calls for entry. We conduct demonstrations of the platform with each potential client to give them a rundown of what features we offer. At the same time, we are asking questions about the organization and the specific call they want to use CaFÉ for. This step is important for the client to determine if they want to work with us and for us to determine if CaFÉ is the right fit for them. 
Once an organization is signed up to use CaFÉ, we offer training with the administrators to ensure they are equipped to use the platform correctly. We also offer monthly webinars on various topics about how to use the site and provide regular customer support to ensure they are able to set up the application correctly, manage submissions, and jury the entries. As we provide these resources, we do our best to encourage best practices throughout the call process. This includes making recommendations for how to clearly outline submission requirements, conduct fair jury processes, and communicate with all artists regardless of acceptance status.
The steps we take are all in the effort to connect artists with career-building opportunities. We are committed to a fair evaluation process of organizations and should an issue arise, we proactively communicate any concerns and strive for a fair outcome for artists. 
What You Can Do: Research the Organizations
While we do what we can to ensure opportunities for artists that are in their best interest, it is ultimately up to you to make an informed decision as to whether you'll apply to a call for entry that you find online—including those on CaFÉ. The first step to finding out if a call is the right fit for you is to take a little bit of time to research the exhibition or event and the organization hosting it. You can start by reviewing the call detail page itself. Read the entire prospectus multiple times to understand what the exhibition is about, what kind of art the organization is looking for, and what may be required from you if you choose to apply. Most open calls also include a brief description of the organization, gallery, or institution itself, so be sure to read that carefully to understand the context of the call. In your initial review, look out for any reason that may make you hesitate to apply and keep that in mind as you continue your research.
Next, conduct a basic search of the organization online. Locate its website and any social media accounts they may have (e.g., Facebook, Twitter, Instagram). Most, if not all, reputable organizations will have an established online presence. While some may have more activity on their website or social media than others, you can at least find out more information than what you initially see on CaFÉ. The info you find online can help you make a decision about whether you want to apply to the call.
A final step you can take is to gauge the responsiveness of an organization should you have any questions prior to applying to their call. CaFÉ requires each call listing to include a contact email where the artists can reach out with questions about the exhibition, event, or project. This email address is found at the top of the Call Detail page as well as the application itself. Avoid sending aimless emails just to see if you get a reply, but if you have legitimate questions, contacting the organization can give you a better sense of how it operates and communicates with artists.  
Signs of a Worthwhile Call for Entry
As you're doing your research for the calls for entry you may be interested in applying to, you'll want to look out for signs that it's a reliable organization and that it's the right fit for your work. Here are some questions you can ask yourself when reviewing the information: 
Does the organization have a website or online presence of its activities?

Does the call information clearly outline the eligibility requirements and selection criteria?

Does the organization provide any rewards or benefits to selected artists? This may include publication, adequate publicity, prize money, resources, etc.

<

Is there a respected juror or panel of jurors invited to review the artwork? 

Can you find previous exhibition or event information, including the work of past winners? 

Does the opportunity align with your goals as an artist?
The Reality of Entry Fees
Many art competitions and juried exhibitions collect entry fees from artists. This is standard practice for galleries—specifically artist-run and nonprofit galleries—to cover operating costs, juror fees, prize money, etc. In most cases, your entry fees serve as a contribution to the organization's existence and their ability to put on exhibitions and in turn, provide exposure and sales opportunities for working artists. Before committing to paying an entry fee, ask yourself if it's worth taking a chance on something that does not guarantee your work will be selected. 
Consider the Rewards
While figuring out if you want to spend your time, money, and effort to apply to an art competition, you have to consider the rewards as much as you have to consider risks. In addition to researching anything that may concern you about the call, look out for what you would get in return if selected. This may go beyond cash prizes and the chance to sell your artwork. 
Pay attention to who is jurying the exhibition—if the jurors have good credibility, that reflects well on the organization and would especially reflect well on your artwork if selected. Also, pay attention to how the event or exhibition is promoted. If it seems to draw a wide audience, your participation means your artwork will be seen by individuals that might not have seen it otherwise. You may also consider how the organization is portrayed in your local community and if you want to establish a relationship with them. Applying to their open calls (whether or not you're accepted) can initiate that connection and show them you're interested in what they do and that you want to be included. Showing your willingness to participate can go a long way when networking with the leaders in your community. Be sure to consider these kinds of rewards and weigh them against the possible risks to choose which open calls are right for you. 
A Choice Worth Making
It's easy to be overwhelmed with the number of art opportunities out there. It can be equally overwhelming to try and determine the value of each one. However, spending a few minutes researching a call for entry will help save you time because you'll only apply to calls that will be worth it to you in the end. Although you can't always expect to be selected, you can at least rest assured that you invested your time and effort into something that ultimately supports the arts community as a whole.  
Written by Communications Coordinator Justine Chapel