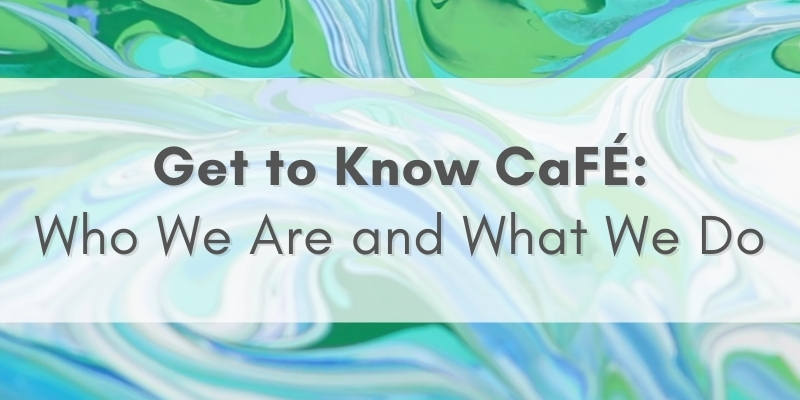 You may know CaFÉ as an artist—it's the place you go to find new art opportunities, upload your work, and apply. You may know CaFÉ as a member of an organization providing one of these opportunities—you list your call, collect submissions, and jury them. You may know CaFÉ as one of the programs of the Western States Arts Federation (WESTAF). However you know us, we're happy to have such a wide range of supporters that are part of the larger arts community. In this blog post, we'd like to reintroduce you to all aspects of CaFÉ, share our updated mission statement and customer service philosophy, and introduce you to our team.
What is CaFÉ?
CaFÉ (Call For Entry) is an online application and adjudication management system used by over 600 public art programs, galleries, museums, and educational institutions to manage public art commissions, exhibitions, fellowships, and visual art competitions. Nearly 160,000 active artists use CaFÉ to find and apply to these art opportunities throughout the year.
Launched in 2005, CaFÉ was the solution to the phasing out of slide projectors used to jury artists' work. Since then, online submissions have become the industry standard, and CaFÉ become a leader in the submission management platform field. Supporting both artists and administrators, CaFÉ has been committed to making art opportunities available to all.
Our Mission
CaFÉ strives to make art opportunities available to all by offering arts organizations an affordable submission platform and artists an easy way to apply.
CaFÉ: Powered by WESTAF
CaFÉ is one of five web services for the arts developed by WESTAF. As a nonprofit, income generated from these products—including CaFÉ—is reinvested in WESTAF programs that support the work of artists, organizations, and communities across the western region and beyond. Whether you're an artist or administrator, when you sign up to use CaFÉ, you join a network of organizations and a community of artists that value inclusion, diversity, and shaping cultural life in their communities.
Thanks to the partnership between WESTAF programs, you'll often see joint efforts with CaFÉ and fellow programs to bring you new services and resources. For example, CaFÉ is teamed up with the Public Art Archive™ to help public art programs across the country find artists and add their work to the largest database of public art in U.S. history. The Public Art Archive also offers a Collection Management System for public art programs to streamline their commission and conservation efforts.
In another example, the Public Art Archive™ has recently teamed up with another of our sister programs, CVSuite™, to present 6 Can't-Miss Public Art Stops of the Southwest. It's the latest in a series of data-driven profiles that chronicle the economic impact of arts and culture on the local economy. Two of the municipalities featured in this list use CaFÉ to conduct public art commissions and projects. These examples highlight WESTAF's devotion to weaving technology, diverse thought leadership, and innovation to energize, network, and fund public sector arts agencies and communities.
Meet the CaFÉ Team
The CaFÉ team is dedicated to making the call for entry processes as seamless as possible. In addition to providing ongoing support for both artists and administrators, we are continually working to develop improvements and enhancements to the site.
Our Customer Service Philosophy
Customers are greeted warmly and respectfully.
Acknowledge customer concerns and listen patiently.
Focus on proficient and personalized solutions.
Emphasize empathy and fairness.
Meet the members of the CaFÉ team!
Written by Communications Coordinator Justine Chapel