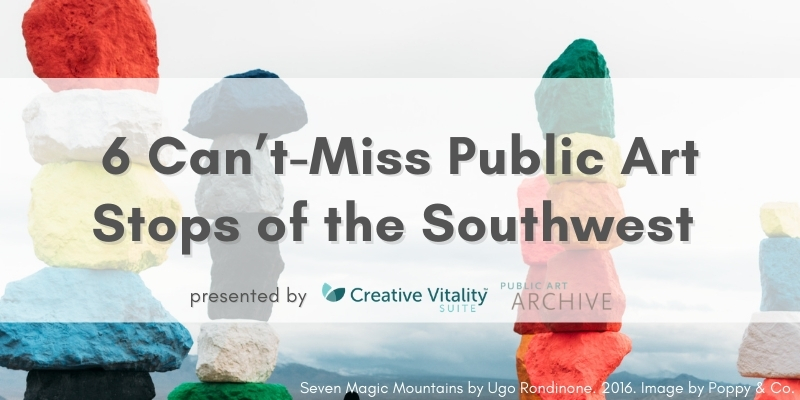 Combining CVSuite's creative economy data with the Public Art Archive's database of completed public artworks revealed an entire road-trip worth of hotspots for public art and bustling creative economies. Whether you're ready to hit the road or go on a virtual exploration, you can read about the six cities' creative economies and view the public art collections that put them on the list. 
Each city is assigned its own Creative Vitality™ Index (CVI™), which compares the per capita concentration of creative activity against the national average. While public artwork can visually enhance a city, quantifying the number of creative jobs and industry revenue shows the important interconnectivity between the city's creative economy and the expression of its value through public art. 
Want to learn which cities made the list? Head to 6 Can't-Miss Public Art Stops of the Southwest to find out, or watch the video below for a special look at these public art hotspots!
CVSuite™ is a research-based economic development tool that provides high-quality creative economy data and reporting. The tool contains information on nearly 80 creative industries and 60 creative occupations. Learn more at cvsuite.org.
The Public Art Archive™ is a free, searchable online and mobile accessible catalog of completed public artworks in the United States that makes public art and its processes more accessible. Locate public art pieces, create custom walking tours, and access images and data via the free mobile site. Learn more at publicartarchive.org.
Written by Communications Coordinator Justine Chapel