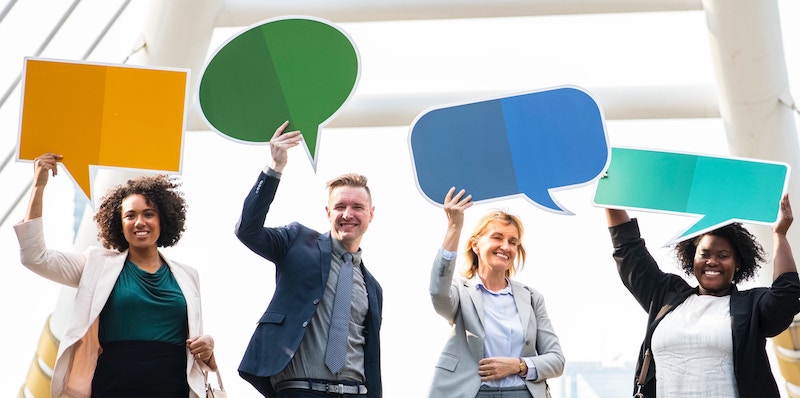 What do 22 safety orange swimmers, 200 vacant homes, 12,000 pounds of melting ice, 10,000 memories and 1 mobile dining room have in common?
They compose a selection of public artworks awarded in the 2017 Americans for the Arts' Public Art Network (PAN) Year in Review.
The PAN Year in Review has annually recognized outstanding public art projects since 2000. The goal of the juried awards is to bring greater visibility and appreciation to the work of artists and the communities served by public art across the country. Each year, up to 50 works are selected to highlight trends and accomplishments within the field, and those selected are presented at the Americans for the Arts Annual Convention – this year in San Francisco, CA.
Here are the stats from the 2017 PAN Year in Review: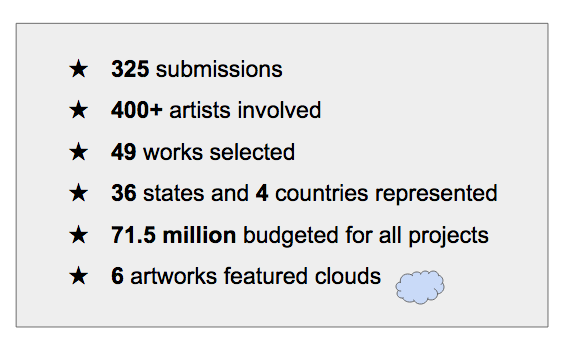 "We want to be supportive of ambitious efforts." – Kevin B. Chen
This year's jurors included Sherri Brueggemann, the Public Art Urban Enhancement Program Manager for the City of Albuquerque, Kevin B. Chen, artist, curator, and co-chair for the City of Oakland's Public Art Advisory Committee and Alison Saar, a Los Angeles based artist. The selection process included an exploration of each submission's process (who was involved), practice (traditional or multidisciplinary), outcomes of the project (implications once completed), and diversity (gender, demographics, location, permanent vs. temporary). The jurors narrowed the pool of 325 submissions to 70 works, then pinpointing 6 themes to help curate the final list to just 49 selections.
Six themes organically developed as the jurors' criterion: dazzling, humor, technology, voice/story/language, active/activism and reflective. While all selected works can be contextualized through these common themes, the awardees reflect a range in funding – $10k temporary projects to multimillion dollar permanent installations and geographic location – selected projects live in places beyond major coastal cities; however, all selected projects demonstrate the rising innovation in the public art field through technology, construction, public contribution, interactivity, and aesthetics.
"I wish all of you could or had to do this [amazing experience]…Always put yourself in the position of being a judge whenever you can. It's very rewarding and fulfilling." – Sherri Brueggemann, Juror
Dazzling
According to Brueggemann, "the dazzling category was the public art wow factor." The jurors looked at everything from aesthetics to production value. The projects innovatively used materials, technology and installation methods to create awe-inspiring effects.
Etheral Bodies 8 by Cliff Garten
Photo Credit: Jeremy Green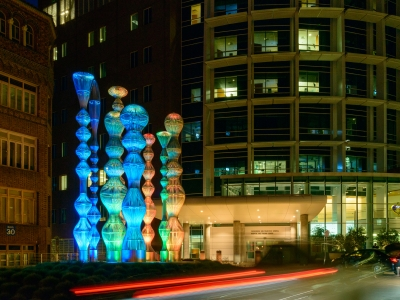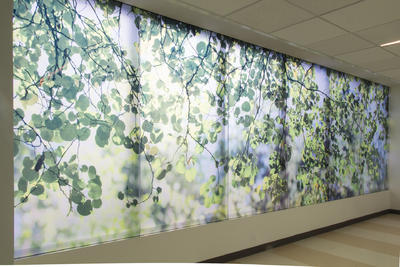 Redbud Redux Suite, by lead artist Stephen Galloway, is another work located in the Zuckerberg San Francisco General Hospital and Trauma Center. This project was also administered by the San Francisco Arts Commission and included the design and fabrication for windows within the Acute Care Unit. The glassworks, by six artists, feature the effects of light in nature. Their seamless integration with the architecture enhances the therapeutic design of the space – creating a sense of peace and wellbeing essential to healing. Learn more about the work on the Public Art Archive.
Redbud Redux Suite by Stephen Galloway
Photo Credit: Stephen Galloway
Humor
Public art has the power to bring laughter and play into our lives. It's hard to find fault in a work that brings a grin from ear to ear, and oftentimes, humor is used to draw attention to more serious matters the artist seeks to bring to public attention.
Ann Hirsch and Jeremy Angier's SOS (Safety Orange Swimmers) was installed in the Boston Harbor during the fall of 2016. The work showed that humor and spectacle can grab the attention of the public, and that attention can then be focused to highlight growing areas of concerns and crises. In an effort to bring more attention to the growing global refugee crisis, Hirsch and Angier submerged a herd of 22 bright orange figures in the Fort Point Channel in Boston's harbor. Each foam figure represented nearly one million of the estimated 21.3 million refugees worldwide. This project generated national coverage and thousands of social media posts garnering it as Fort Point Arts Community's "most successful project to date in terms of audience engagement." Learn more about the work on the Public Art Archive and find out where the project will be exhibited next!

SOS (Safety Orange Swimmers) by Jeremy Angier and Anne Hirsch
Photo Credit: A + J Art + Design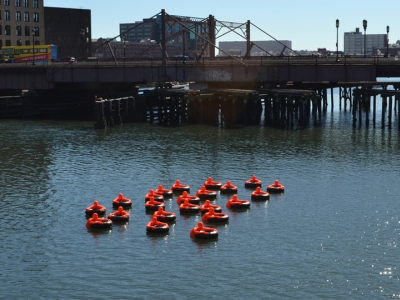 Technology
Technology provides new platforms for encouraging the public to engage with and understand public space in new ways. From robots to video projections to social media feeds, technology provides a platform for us to interpret the world.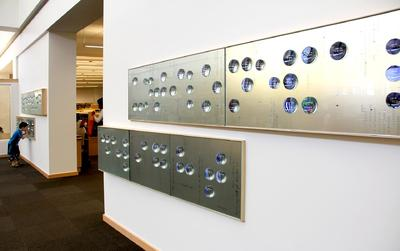 UNBOUND by Eric Carlson can be found in the Chapel Hill Public Library in North Carolina. The work examines notions of public and private through the lens of a library – a place that binds information through collection and unbinds it by releasing it to the community. UNBOUND features nearly 10,000 media clips submitted by community members' personal archives including photos, letters, recipes, etc. The artwork uses custom software and algorithms to display ever-changing combinations of media. A Braille-based matrix of glowing lenses act as peepholes and the multi-layered glass surfaces are etched with code systems like morse code, binary code, and shorthand. Learn more about the work on the Public Art Archive.
UNBOUND by Eric Carlson
Photo Credit: Town of Chapel Hill
Immaterial by Tristan Al-Haddad is also located in a library – the Southeast Library in Atlanta, Georgia. Al-Haddad transformed the space from a "house of knowledge" into a "web of thought" through virtualization, also known as a software-based (virtual) representation. The wall installation depicts rays of light comprised of 144 literary quotes, and the lines map the locations of each library in the Atlanta-Fulton Public Library System. Additionally, the outline of the acrylic panels represents the neighborhoods served by each library. Learn more about the work on the Public Art Archive.

Immaterial by Tristan Al-Haddad
Photo Credit: Fulton County Public Art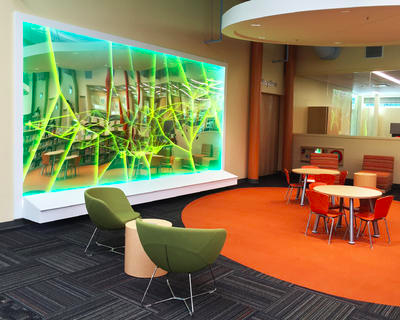 Voice / Story / Language
Public art tells the narratives of place – of the people, the geography, the history. It gives a voice to communities and more importantly, to communities that are typically not heard or seen. Public art creates dialogue amongst diverse groups and spurs conversations in our own mind.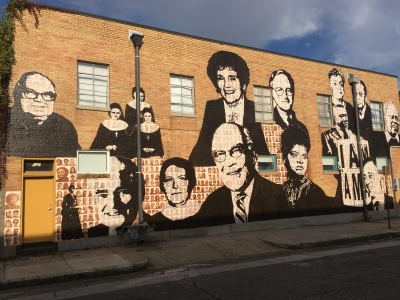 Memphis Upstanders Mural by Nelson Gutierrez and Cedar Nordbye is a remarkable example of creative partnerships with nonprofits. Commissioned by Facing History and Ourselves and administered by the UrbanArt Commission, the mural honors community-nominated Upstanders – those that helped create a more inclusive, just and compassionate Memphis. Located across from the National Civil Rights Museum, also the site of the of Martin Luther King, Jr.'s assassination, this powerful and uplifting work utilizes public art as a platform for dialogue about Memphis' history and celebrates those lesser known heroes that stood up to adversity throughout challenging times. Facing History and Ourselves is an international, educational nonprofit guided by the mission to engage students of diverse backgrounds in an examination of racism, prejudice, and antisemitism in order to promote the development of a more humane and informed citizenry. Learn more about the work on the Public Art Archive and visit the mural's website to learn more about the stories behind each of the Upstanders.
Memphis Upstanders Mural by Nelson Gutierrez and Cedar Nordbye
Photo Credit: Nelson Gutierrez
Public Trust by Paul Ramirez is an interactive traveling artwork that implored Bostonians to consider the meaning of a promise for 21 days during the 2016 presidential election. 13 artist ambassadors engaged with 956 Bostonians, collected their promises, created a contract (an artwork), and performed a ceremonial oath. The promises were presented on a 16-foot portable Marquee. Regardless of age, status, or race, Greater Boston residents and tourists alike added to Public Trust. Learn more about the work on the Public Art Archive.
Public Trust by Paul Ramirez
Photo Credit: Ryan McMahon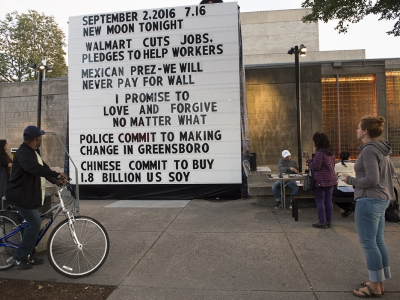 Active/Activism
Juror Alison Saar described the projects in this theme as "those that engage the community actively to interact with the work." Projects in this category were collectively constructed by the public or serve as catalysts for the public to engage with issues such as urban blight, climate change, clean water, and the global food crisis.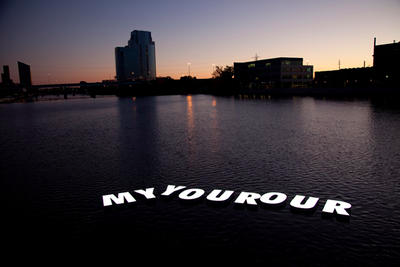 My Your Our Water by Erin V. Sotak focuses on the scarcity of water in Arizona's desert. A multi-platform project located in Scottsdale, the installation included six components: a tricked-out-tricycle, a daily blog, a project website, a community Facebook page, a video projection, and a 45-foot illuminated floating sign. After installation, the work quickly grew into a grassroots dialogue about local, regional and global water issues. Learn more about the work on the Public Art Archive.
My Your Own Water by Erin V. Sotak
Photo Credit: Erin V. Sotak
Reflective
The panel wanted to close the review process with works that encouraged viewers to pause and take time out of their busy days to reflect on place. The awarded works in the reflective category focused on projects that purported more meditative experiences, creating quiet and calm environments that spoke to the past, present, and future of our society.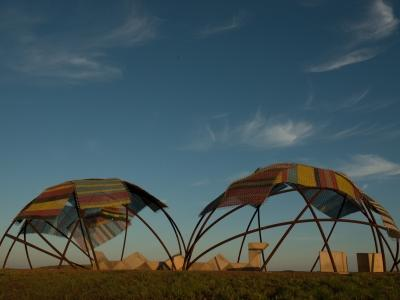 Midden Mound Wickiups by Buster Simpson is a modern take on Wickiups – a primitive, temporary domed dwelling constructed by Native Americans of the Southwest. Located in San Antonio, Texas, Simpson used metal as opposed to the traditional natural elements (branches, hides and thatch) to create peaceful sites that provided shade in the hot sun and gave visitors a place to rest with pastoral views. The works "honor the historical presence of indigenous peoples and their light footprint on the land." Learn more about the work on the Public Art Archive.

Midden Mound Wikiups by Buster Simpson
Photo Credit: Joe Freeman
"The hardest part is not being able to choose everyone…so much great work out there. We want to reward those that are bringing art out for all of us." – Alison Saar
Curious to know more about the 2017 PAN Year in Review Jurors? Here are their brief bios:
Sherri Brueggemann is a founding member of Americans for the Arts and is currently the Public Art Urban Enhancement Program Manager for the City of Albuquerque, Cultural Services Department. She co-founded the InterGalactic Cultural Relations Institute – a non-profit organization dedicated to exploring the role of art and cultural in future interplanetary diplomatic relations.
Kevin B. Chen is a curator, writer, and visual artist based in the Bay Area. He currently serves as co-chair for the City of Oakland's Public Art Advisory Committee, member of Recology's Artist in Residence Program Advisory Board, member of the Curatorial Committees for Root Division and Pro Arts Gallery, manages the Artist Residency Program and Public Programs at the de Young Museum, and is a Lecturer at Stanford University. Check out his website here.
Alison Saar is an Los Angeles-based sculptor, painter and installation artist whose work explores themes of African cultural diaspora and spirituality. She has a BA from Scripps College and a MFA from the Otis Art Institute. She received the United States Artist Fellowship in 2012 and was awarded the John Simon Guggenheim Memorial Foundation Fellowship and two National Endowment Fellowships.
You can watch the 2017 Public Art Network Year in Review presentation at the Americans for the Arts Convention here.
Written by Elysian Koglmeier