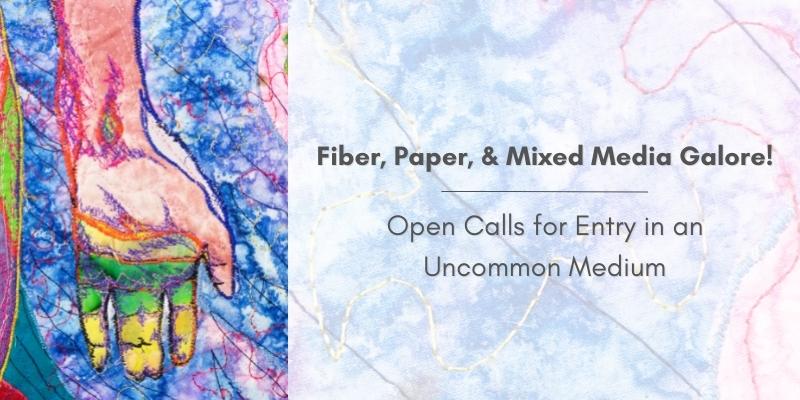 As seen in our post 2021: A Year in Review, there's no surprise that the majority of artists who use CaFÉ identify painting as at least one of their disciplines. While the fiber art, printmaking, and craft/decorative arts disciplines fall lower down on the list, there is certainly a strong community of artists working in these art mediums. Many exciting opportunities are posted by organizations looking for artwork in these categories. To shine a spotlight on this creative and resourceful style of art, we are sharing a list of open calls for entry that are primarily seeking artworks in fiber, paper, and mixed media. Take a look at the list below and apply today!
Want to see the full list of open calls on CaFÉ? Visit the Call Listings page here!
Yeiser Art Center
Deadline: 3/1/2022
Entry Fee: $45.00
FANTASTIC FIBERS is an international competitive exhibition that seeks to showcase a wide range of outstanding works related to the fiber medium. One of Yeiser Art Center's most engaging and innovative international exhibits, Fantastic Fibers is an inspirational "must see" for fine artists, quilters and textile art enthusiasts around the globe.
APPLY NOW
D'art Gallery
Deadline: 3/2/2022
Entry Fee: $35.00
D'art Gallery joins in the excitement of Month of Printmaking with a national Call for Entry for Printmaking and Mixed Media.
Printmaking, a wealth of types, processes, materials, thinking and outcomes is a must for this Call, but we've added the possibility of mixed media. A combination of printmaking and mixed media, or printmaking, alone, in one of the "ways of doing" allows for exploration on a multi-dimensional level.
APPLY NOW
Indianapolis Art Center
Deadline: 3/5/2022
Entry Fee: $35.00
The Indianapolis Art Center announces a Call for Entry to Modern Craft. Modern Craft is a juried exhibition featuring contemporary craft – modern takes on mediums historically or traditionally deemed crafts. This exhibition will highlight the work of artists challenging the traditional notion of craft in the context of contemporary art. The Art Center is calling for entries from artists 18 or older working in the United States. Work made with any mediums historically or traditionally considered crafts are eligible.

APPLY NOW
Floyd Center for the Arts
Deadline: 3/10/22
Entry Fee: $35.00
The Floyd Center for the Arts is pleased to open a call to ceramics and glass artists for a regional exhibition. Floyd, VA has a rich history of talented artists, especially those who explore glass and clay. This group exhibition aims to honor and highlight the beauty that comes from these media, as well as the talented artists in our region who contribute to this canon. All accepted works will be shown in our main gallery space Saturday, April 9 to Saturday, June 4.

APPLY NOW
Site:Brooklyn
Deadline: 3/15/2022
Entry Fee: $26.00
From Duchamp's "readymades" to the Cubist's use of collage, modern art was often typified by combining a range of unexplored techniques, unfolding through the intersections of various media. Mixed media, though shocking and unexpected at first, meant that the old divisions of art could never reassume their unquestioned dominance. From the 20th to 21st centuries, the world has become evermore mediated by spectacular accumulations of images. Site:Brooklyn is looking for artists whose work explores the rich and still unmapped convergence between the proliferation of media and artistic practice.

APPLY NOW
Carnegie Center for Art and History
Deadline: 3/19/2022
Entry Fee: $35.00
Form, Not Function: Quilt Art at the Carnegie is an annual juried exhibit of contemporary quilt art held at the Carnegie Center for Art & History in New Albany, Indiana. All works must be quilted (two or more distinct layers held together with stitches). The layers may include fiber and textile materials, but this is not required and other techniques and mediums are acceptable as long as the work is quilted, as defined above. The exhibit is open to artists, age 18 or older, living in the United States.

APPLY NOW
South Haven Center for the Arts
Deadline: 4/24/2022
Entry Fee: $35.00
This exhibit seeks mixed media artwork that modifies a book from its original form by altering its state or meaning. Altered books can integrate text with sculptural and material richness to create a multi-sensory reading experience. Final pieces can take many different forms including sculpture, collage, assemblage or jewelry as long as 'the book' is evident in its final appearance. Books from any source utilizing any non-perishable medium are eligible. All work must be original and executed within the last three years.

APPLY NOW
b.j. spoke gallery
Deadline: 5/22/2022
Entry Fee: $35.00
Eligibility: Artists using paper as their primary medium, as a substrate, or the subject of a video.
Accepted Media: Works made on paper, of paper or about paper: cut paper, folded paper, woven paper, glued paper, drawings, paintings, pastels, printmaking, photographs, paper sculpture, 3D, bound books, collage, mixed media, video, and installation.
Juror: Kiko Aebi is a Curatorial Assistant in the Department of Drawings and Prints at The Museum of Modern Art, a position which she has held since 2019. In this role, she has provided exhibition and acquisition support on various projects.

APPLY NOW
Fine Line Creative Arts – St. Charles, IL
Deadline: 6/6/2022
Entry Fee: $25.00
Calling jewelry and fiber artists. Fine Line is now accepting applications for Uncommon Threads 2022. This one-day wearable art vendor event is open to artists 18 and older who reside in the United States. Artists booth spaces are available, or artists can provide items to be included in a collective booth space.
APPLY NOW
Fine Line Creative Arts – St. Charles, IL
Deadline: 6/6/2022
Entry Fee: $25.00
Calling Fiber Artists.  We invite you to apply for The Runway Show @ Uncommon Threads 2022.  This is a one-day event where your 3-5 garments collection will be part of a fantastic runway show featuring wearable fiber artists. Open to any fiber artist 18 years or older who resides in the United States. You do not need to be present at the event to have your work shown.
APPLY NOW
Written by Communications Coordinator Justine Chapel