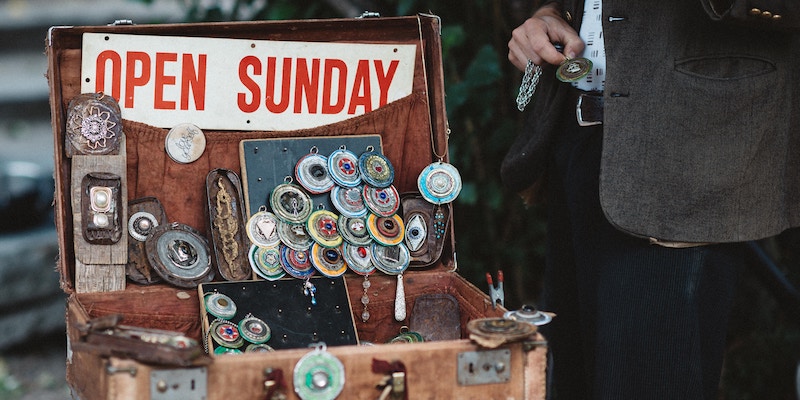 You don't need a masters in business to sell your artwork. And you don't have to feel like you are "selling out" when selling. We have 6 helpful resources to give you the tools and knowledge to make genuine and fruitful sales online and offline.
Resource Type: Book
Online sales are increasing. The lionshare of the market has been held by galleries, separating artists and collectors, but now the internet has changed the game. There's a new generation of artists connecting directly with buyers online.
How to Sell Your Art Online outlines how to set up an effective website and provides advice on email marketing, blogging, social media marketing and paid advertising.
Huff provides exercises that artists can use to clarify the intellectual and emotional process behind their art, and teaches them how to turn that knowledge into unique stories they can tell online and in person.
Resource Type: Website
ArtistsNetwork.com is a subdivision of F+W Media, Inc. Art Community, which offers books and articles for artists, art videos, online art classes, and art contests. Check out the Art Career Tips and Articles section of the site to boost your sales. Here are two helpful articles:
Art Commissions: General Rules for Selling Art. From the article, "If you underprice your work, the purchaser will value it accordingly. If they pay $25 dollars for something, they will not treasure it nearly as much as they would had they paid $250. You tell the customer what your art is worth by the price that you charge. Sell it cheap, and it may end up being discarded, or sold in a garage sale."
Selling Artwork Online reminds you of the importance of paperwork legal counsel – "Wherever you sell art online–whether through your own eCommerce store or an online art selling hub–make sure you are protected and you consult a legal professional and or CPA beforehand."
Resource Type: Online Directory
Artsy Shark gives artists a directory of places that they can market and sell their artwork. General categories include marketplaces, website providers, commission sites and print on demand services. Here are a few examples:
Portraity: This site aims to connect artists and clients who want commissioned portraits. Upload your portfolio onto the site and a "contact" button puts potential clients in touch with you.
Society6: This provider takes your uploaded art images and uses them to make prints, canvases, iPhone cases, hoodies and more. Set your price, and you receive payment for everything over the base price of their products.
Square: This is the same group that created the Square card reader. This popular marketplace offers free online stores, with a very clean contemporary look. Use it as your website or link to them as your store.
Resource type: YouTube Video
This YouTube video is help for up-and-coming artists. CanvasPop co-founder, Adrain Salamunovic, debunks 6 myths on marketing artwork and offers advice on how to market artwork while maintaining your artistic integrity. how up-and-coming artists can market their works and still maintain their artistic integrity. Here are two myths he addresses:
"Creating prints of my will reduce its value."
"If I increase my art prices, I will make more money."
Resource Type: Book
Most artists want to make art, not sell it, but in order to turn your passion into a career, you have to think like a business(wo)man and be entrepreneurial. This book gives you those tools without sacrificing your creativity. Here is what you'll learn:
Understanding your market
Composing your artist statement
Refining your sales pitch
Knowing how to price your pieces
Discovering where you art belongs
Identifying the buyers
Defining your target market
How to sell art online
Resource Type: Book
From the author: "When I started my Etsy shop, I tried looking for a book that specifically focused on selling art and art prints on Etsy, but couldn't find one. This ebook includes everything I wish I'd been told right from the start and outlines the strategies that worked well for me in the first eight months of having my Etsy shop. There's also a chapter on tips from other Etsy shop owners who sell artwork."
It covers everything from creating a successful brand to writing engaging descriptions and effective tags that will help lead customers to your work.
Written by Elysian Koglmeier